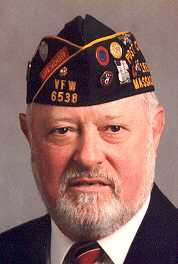 Richard A. Theobald
TOWNSEND - Richard A. Theobald, 70, of 3 Woodland Drive,
died unexpectedly Wednesday at the Sunrise Children's Hospital,
Las Vegas, Nevada while vacationing there.
He is survived by his wife of 46 years, Eugenia F. (Murphy) Theobald, four sons:
Richard E. Theobald of Indiana, David A, Theobald of Alabama,
Eugene A. Theobald of South Carolina,
Daniel E. Theobald of Townsend, two daughters;
Mary E. Carignan of Leominster, Linda A. Hatch of Florida,
a brother; Robert Theobald of Arizona, three sisters;
Evelyn Waterbury of Colorado, Elizabeth Theobald of Minnesota,
Cecilia Bettin of Washington State,
a sister in law: Helen Theobald of San Diego, CA.
He also leaves 13 grandchildren and 1 great grandchild.

Mr. Theobald was a member and past commander of the Townsend VFW Post.
He was a member of the Men's Retired Military "Lunch Bunch" Meeting in Ayer twice monthly.
He also enjoyed gardening. Mr. Theobald was born in Sherburn, Minnesota,
the youngest of 15 children to Aloysius and Elizabeth (Rooney)
Theobald and has resided in Townsend since 1978.
For over 20 years Mr. Theobald served his country in the United States Army
retiring in 1974 at the rank of Sergeant Major. He later worked as a civil servant for
the military at Fort Devens.
A funeral mass will be celebrated 10 am Monday at St. John's Church, 1 School Street,
Townsend. Burial will be in Hillside Cemetery, Townsend.
Calling hours are 4-7 Sunday at the T.J. Anderson & Son Funeral Home,
250 main Street, Townsend.
Please see www.andersonfuneral.com for additional info.